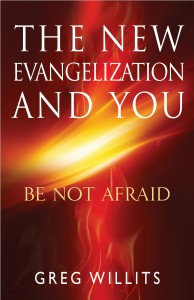 My brand new book, "The New Evangelization and You: Be Not Afraid" ships by the end of May.
To further inspire you to take an active role in the New Evangelization, if you pre-order the book between now and Friday, May 3, 2013, I'll send you an exclusive code to download my talk, "Be a Man of the New Evangelization" absolutely free.
Though delivered to a men's group, this talk sets the ground work for anyone who's ever wanted to do more for the Catholic Church.
Here's what to do:
Pre-order my book from Amazon, Catholic Company, Aquinas and More, or wherever you like to buy books
Forward a copy of your receipt to me at greg [at] rosaryarmy [dot] com
Wait for me to send you your secret download code (I have to do this manually so give me a day or two, please)
Download the MP3 and enjoy!
Additionally, if between April 30 and May 3 I'll send you an extra download code for every copy of either "The New Evangelization and You: Be Not Afraid" or "The Catholics Next Door: Adventures in Imperfect Living" that you purchase!
Again, this deal ends on May 3 so make sure to pre-order now!