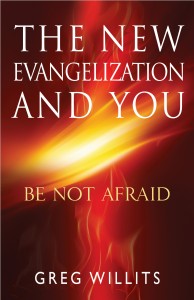 One of the most popular aspects of my book The New Evangelization and You: Be Not Afraid were the many sidebars about New Evangelizers in Action, stories of everyday Catholics doing their best to know, live, and share their faith. The original plan was for an entire bonus chapter of New Evangelizers, but unfortunately the page count exceeded the plan for the printers.
So for the next few weeks, I'm going to share this great bonus content from The New Evangelization and You: Be Not Afraid. Enjoy!
New Evangelizers in Action: Allison Riley
"After becoming Catholic, and RCIA ended, I had a hunger to learn more about my new faith," says Allison Riley, who converted to Catholicism ten years ago, while in her mid-twenties.  "I loved being involved in my parish and began teaching CCD classes."
For Allison, the mother of five children, one of the most common struggles in her own continued understanding of Catholicism in finding ways to learn more about the faith in a way that would also help care for her children.  "This is something that other churches do VERY well. I am not talking about childcare at Mass, but for other events in my parish. I know moms and families that would love to learn more but we are at home being open to life. Our Catholic churches need to figure out how to better embrace large families, which are the very core of our faith."
When looking at the New Evangelization, Allison says, "I see more people getting involved, but sometimes I think the message gets watered down as people try to make faith fun."
By volunteering in other ways, Allison began to see the hunger she experienced for her faith was not her own.
"My hope is that parishes get back to the core truths of our Church," Allison says.  "Teach people about their Catholic faith and stop worrying about offending people."