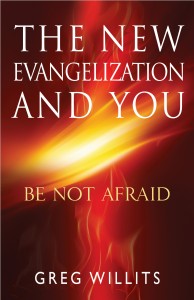 One of the most popular aspects of my book The New Evangelization and You: Be Not Afraid were the many sidebars about New Evangelizers in Action, stories of everyday Catholics doing their best to know, live, and share their faith. The original plan was for an entire bonus chapter of New Evangelizers, but unfortunately the page count exceeded the plan for the printers.
So for the next few weeks, I'm going to share this great bonus content from The New Evangelization and You: Be Not Afraid. Enjoy!
New Evangelizers in Action: John Proffitt
John Proffitt believes he has a desire to share his faith journey, and to do it in the most creative way possible.
"I am in the process of trying to write my own book, based on a prayer that I felt I was given a dozen years ago," John says.  "If I finish that one and it is deemed publishable, I have an idea for a second book that I would also like to write."
His writing stems, in part, from his desire to read more.
"I have actually spent a considerable amount of time building up a library of Catholic authors and books on apologetics and other topics to learn my faith better," John says.  "I feel like I am getting a lot more comfortable with the basic knowledge of the faith."
Even still, reading and remembering are two different things.
"What I wish I could do more of (should do more of) is memorizing some of the scripture references to support the various aspects of the Catholic faith that are the least understood by non-Catholics so I can change their perspective of what Catholics believe and why."
Like many, John's past is often a hindrance to having confidence as a New Evangelizer, and sometimes makes it difficult to live his faith.
"I was such a dog for so many years, overcoming the bad habits is certainly a challenge," John says.  "The older I get, the less patient I seem to be with the process, which just angers me."
Nevertheless, John holds to great hope for the future of the Church and his own faith development.
"My hopes are that more of those who call themselves Catholic will actually begin to understand and embrace their faith more faithfully," John says about the New Evangelization.  "I think there are plenty of things that are making us actually decide for or against the Church – the HHS mandate for example. The differences between black and white, right and wrong, good and evil are becoming more apparent, with less opportunity to sit on the fence."