The summer before Jennifer and I got married, I went on a mad-dash painting spree. I wanted our apartment to have cool artwork on it and did some rather cool paintings, if I do say so myself. I did two portraits of Ernest Hemingway (which I'm not even sure what happened to), one of Jennifer (which I think is in her closet), and a portrait of the two of us (which is now in basement), and a couple other random paintings. They were all done in oil on canvas, and it was the first time I'd done anything like that. But because of my long history of drawing, the process came fairly easy to me.
But then came children, and spending hours painting, plus having turpentine around to clean the brushes, didn't seem like a good idea.
Now, after a 16-year sabbatical from painting, Jennifer got me a new set of brushes, an easel, a couple canvases, and a bunch of tubes of paint (this time in easier to clean acrylic).
Whereas I earnestly jumped into painting 19 years ago, now I was a bit trepidatious to start again. Even though I like the paintings I did before we got married, looking at them now I see all sorts of weaknesses and shortcuts.
But do I paint for fun or because I'm an expert at it? That's the question I now ask. I'm no longer under some self-imposed deadline of creating a bunch of paintings to decorate the house. Instead, I highly suspect that most of what I create now will end up gathering dust in the basement. Instead, I'm trying to approach art as an exercise in letting the Holy Spirit work through me if He wants to, and otherwise just enjoying the process of creating if He doesn't.
So far I've finished one painting and started a second. The first was on practice board (wish I'd used actual canvas now). The second is on a 24×30″ canvas.
The first painting was of a tree. I thought I was finished when I got to this point: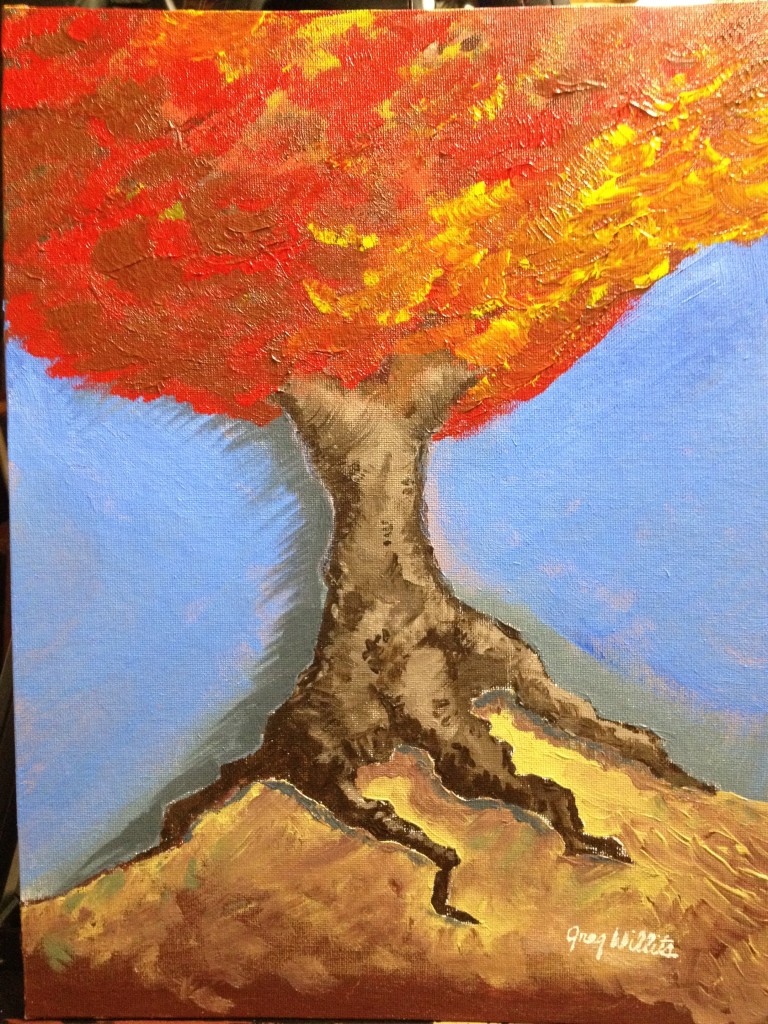 While I really liked the way the trunk turned out, I really, really, really, really, really didn't like the leaves.
After a few days and much thought, I did this to the tree: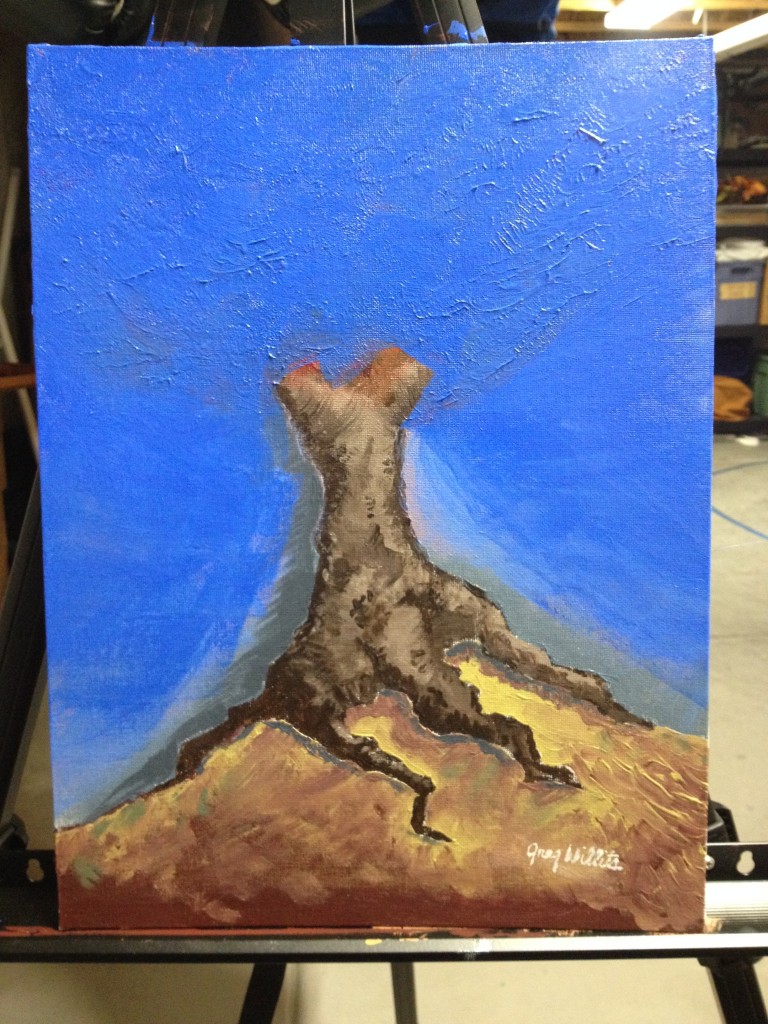 As you can imagine, I was a wee bit nervous when I painted over such a large part of the tree.  What I did different the second time around was to actually paint the branches on the top,  even though I knew I'd end up painting over those.  In the end, this was the final result: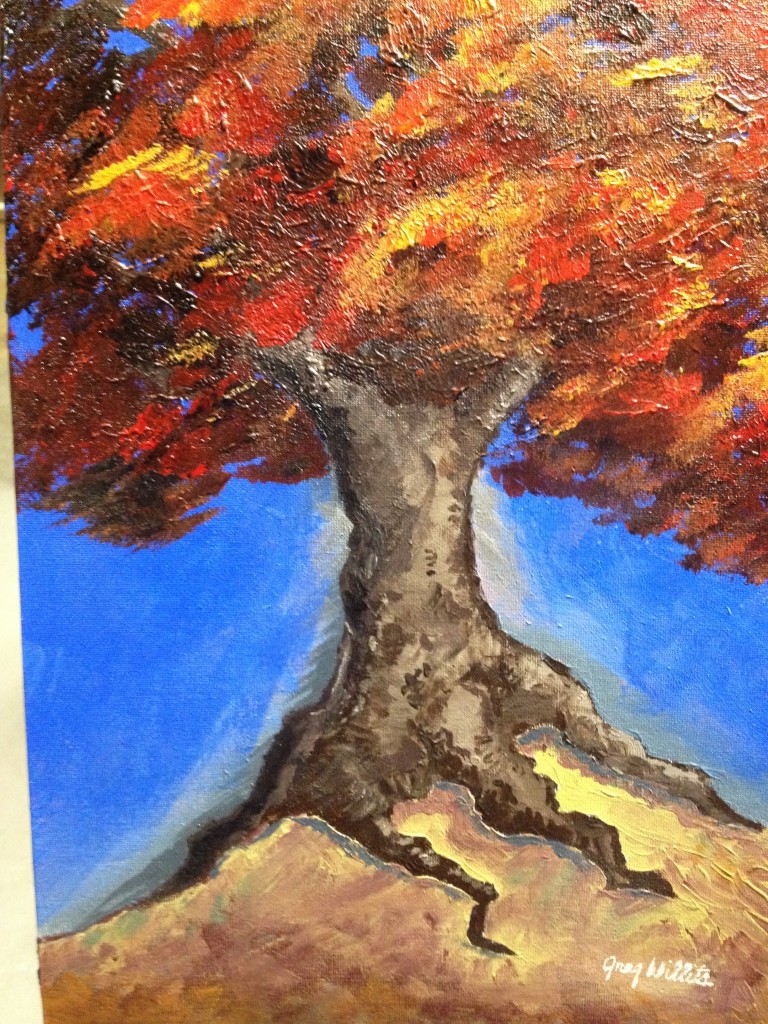 I was much happier with the final product.  But I'm still intimidated by painting those stupid leaves.
Here are the two versions side by side (I also ended up expanding the trunk a bit since the mass of the leaves ended up being greater):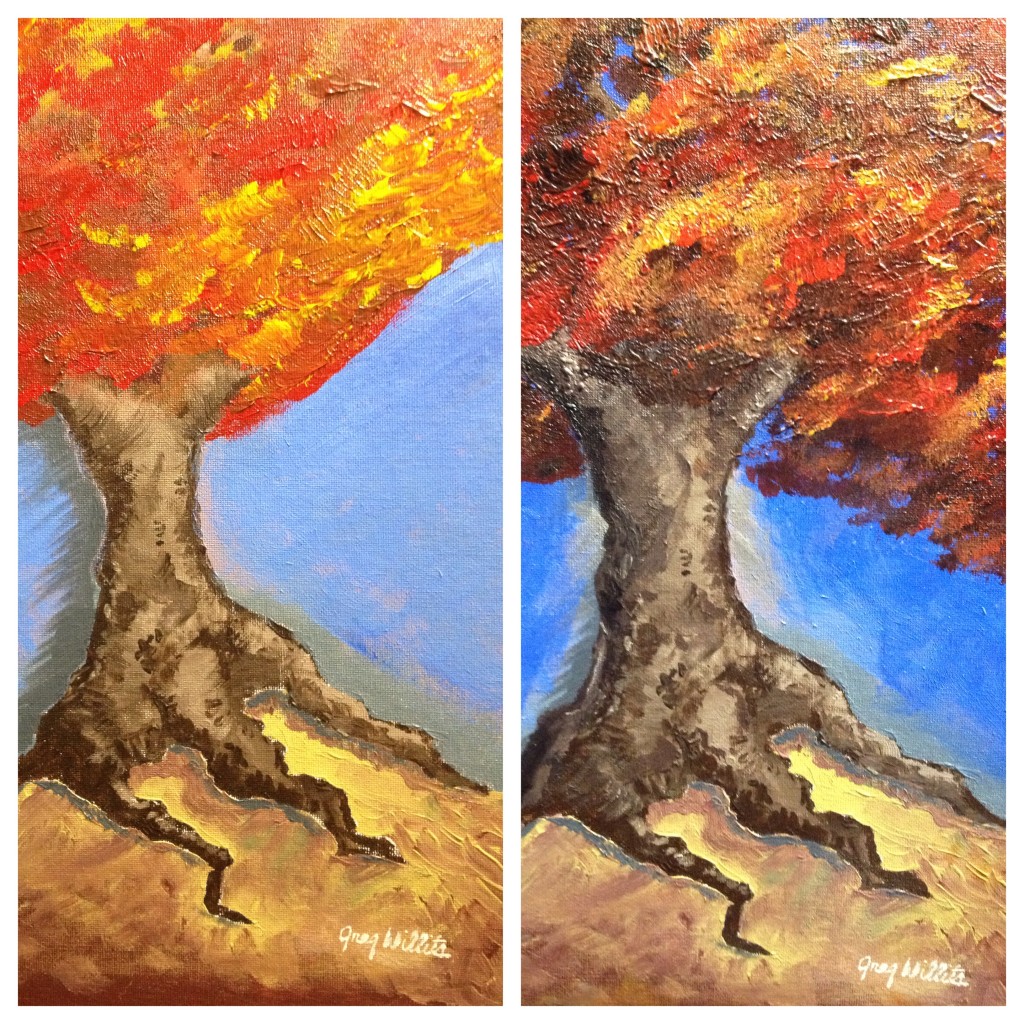 As I made the corrections, I decided to make a short video of the process: